ITSC Students Present Coastal Hazards Technologies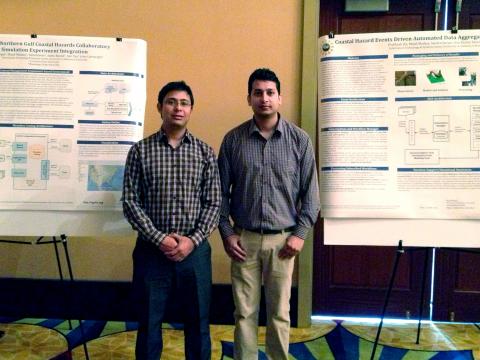 Student researchers from ITSC presented their current technology projects at the annual meeting of the Northern Gulf Coastal Hazards Collaboratory (NG CHC) meeting held June 12-13 in Mobile, AL. Sabin Basyal presented his work on Simulation Experiment Integration. Prabhash Jha presented his work on NGCHC use case for Event driven data delivery. Dr. Sara Graves, Mr. Manil Maskey and Ms. Sandra Harper lead the ITSC's activities on this project.

This is a meeting where the NG CHC researchers from the participating states can demonstrate their contributions to the project and discuss ongoing activites. Louisiana, Mississippi, and Alabama have formed the NG CHC to leverage their partnerships, proximity, and significant prior investments to advance science and engineering of coastal hazards across the region.

This project is supported by a National Science Foundation EPSCoR Grant.